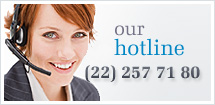 Business registration
Within this service we give legal advice when commencing an economic activity in Poland by natural and legal persons. We assist by establishing of any form of a business with participation of national or foreign entities:
company with limited liability,
unlimited company,
partnership,
limited joint-stock partnership,
limited partnership,
joint-stock company,
foundation,
association,
group of producers,
representative,
branch.
Scope of services connected with the establishment of a new entity:
preparation of a draft agreement,
arranging a visit to a notary public and assistance by notarial deed (it is also possible to establish an entity according to the indications base on a granted authorization),
preparation and filing of an application to the National Court Register with all the attachments connected with the entity registration in the Tax Office, Central Statistical Office, National Insurance Company.
Scope of current activity of the company:
registration of all the changes in the National Court Register and other relevant offices,
any legal transformations (Ltd. into JSC. or Ltd. into Limited partnership, etc.),
assistance by organization of shareholders meetings, draft resolutions,
processes of liquidation and bankruptcy of companies.
Sale of companies
Commencement of a business in Poland, and simultaneously creation and registration of new companies, is a time consuming process that they last up to 4-8 weeks. Our company offers the service of entity registration and thus ensures swift and effective start in the Polish business reality.
We provide a written warranty and we are financially responsible for the fact that the companies established by us have never conducted any economic operations, do not have any assets, employees and trading obligations.
On sale the companies offered by Euro Consulting are fully shaped legal entities possessing:
office registered in Warsaw,
minimal share capital,
articles of association the content of which may be amended on the Client's request,
number of the National Court Register (KRS),
active banking account,
statistical number (REGON),
complete registration for taxes: CIT and VAT / VAT-EU,
current books of accounts and financial statements.
On the Client's request we make any modifications in the company such as change of the registered office, bard compositions, etc.
For details please contact us.