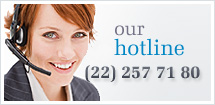 About us
The origin of Euro Consulting reaches the year of 1990. From the very beginning we have been dealing with a comprehensive service in accounting of all the economic subjects. Our team consists of tax advisers and certified accountants. At present our accounting services are being performed in three offices for over 600 businesses.
Large number of customers that use our differentiated offer and number of branches that they represent and also a long period of activity contributed to the achievement of necessary experience in numerous fields of business activity: starting from small businesses run by natural persons, through medium family companies to developers, foreign representatives of companies and foreign branches of concerns. A complement to our activity is the service of monitoring of receivables.
In 2008 we separated an independent unit from our structures - Payroll Consulting Sp. z o.o. Sp. K. providing comprehensive services within payroll and HR administration.
Modern accounting and financial systems used in our company guarantee an efficient management based on up-to-date reliable information to which we ensure a permanent day-long access from any place whit Internet connection.